Advertise with Changelog Media
We reach 75,000 developers weekly
100,000 monthly pageviews • 225,000 monthly podcast listens • 14,537 email subscribers
How sponsorship works
Our primary focus is on developers, but people from every part of the software industry tune in to our podcasts and newsfeed to inform their next big idea. From CTOs and Directors of Engineering to Frontend Developers and Product Designers, our audience cares about the future of software, dev culture, tooling, team efficiency — and they're waiting to hear from you.
1. Develop your strategy
Everything begins by understanding who you are and the goals you're trying to achieve. We have proven workflows to uncover who you are, your goals, what's working, and the aspects of your story developers need to know.
2. Plan your activation
Once we have an understanding of who you are and how we can help you, we'll begin to shape what to say, how to say it, and where. Our team has years of growth and marketing experience to develop a campaign focused your goals.
3. Build your following
Developers follow our content to explore new ideas and discover new tools. We make sure your brand and product are a part of their journey. We're here to guide and help you every step of the way.
Podcast sponsorship examples
News sponsorship examples
Whether you're curious to know more about Kubernetes, just getting started, or have experience with it, this curriculum on DigitalOcean's Community will help you learn more about Kubernetes and running containerized applications.
You'll learn about core Kubernetes concepts and use them to deploy and scale applications in practical tutorials. By the end of this curriculum you'll be able to create your own Kubernetes cluster from scratch and run your own applications on it. You will also learn how to set up monitoring, alerting, and automation for your applications on Kubernetes.
Oh, and if you're creating a new DigitalOcean account head to do.co/changelog get $100 in credit to your account.
Everyone is self-quarantined and working remotely. Now what? Well, now you have to take your conference online. But how?
The basic structure of your setup is going to be a live conversation that is broadcast to a larger group of live viewers. The live conversation could be something like one person presenting with a screen share, or one person interviewing someone else, or a panel discussion among a group of experts.

A really simple way to do this live conversation is to use Zoom. Adding Mux in the middle is how you can broadcast your Zoom call to an audience of thousands on your own website. The live audience does not have to download Zoom, they do not interact with Zoom at all. All they do is see a video player that you make on your website.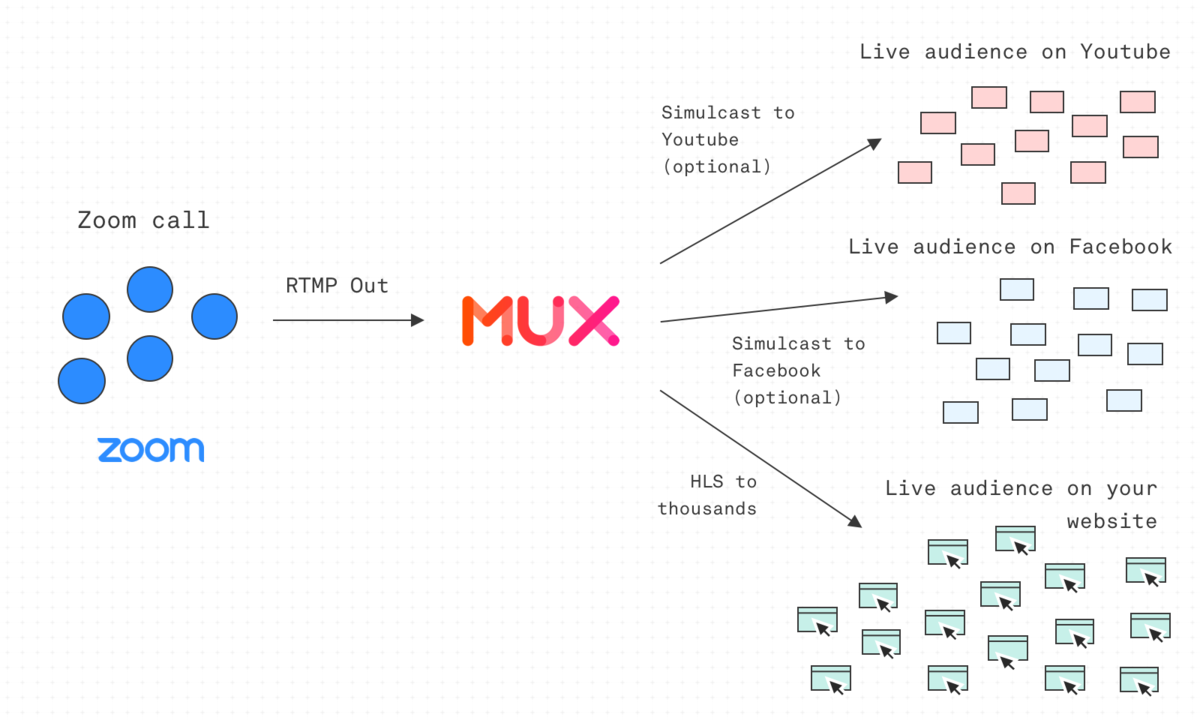 Who you'll reach
Our audience is the builders, leaders, and planners defining the future of software.
Every day we influence developers at some of the most innovative tech companies in the world.
Community Leader
Data Scientist
Executive VP
SRE Engineer
Software Engineer
Systems Engineer
React Core
Distributed Systems
Engineering Director
JavaScript Engineer