Keep npm Running
with Isaac Schlueter and Charlie Robbins
Featuring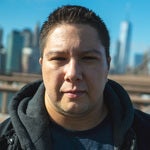 Adam
All Episodes
Isaac Schlueter and Charlie Robbins joined the show to talk about the "crashyness" of npm recently and the community fundraiser they are starting to ask the community to support npm and to keep it running. Isaac is the creator of npm and a maintainer of Node.js. Charlie is the co-founder and CEO of Nodejitsu.
58 minutes
Recorded
Published
DigitalOcean – Use the code CHANGELOG to get a $10 hosting credit when you create a new DigitalOcean account
Toptal – Join Toptal and work with awesome people from anywhere in the world. Freelance with companies like Airbnb, Artsy & IDEO.