Modern WordPress using Bedrock and Sage
with Ben Word and Scott Walkinshaw
Featuring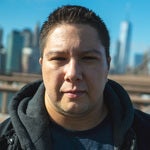 Adam
All Episodes
Ben Word and Scott Walkinshaw joined the show to talk about a more modern WordPress stack, Bedrock and Sage, dependency management, WordPress deployment, smarter development setup with tools like Ansible and Vagrant, and more.
If you're someone who wants to use WordPress in more modern ways, this show is for you.
74 minutes
Recorded
Published
Codeship – If it works with Docker, it works with Codeship Jet.
Toptal – Join Toptal and work with awesome people from anywhere in the world. Freelance with companies like Airbnb, Artsy & IDEO.
Code School – Learn to program by doing with hands-on courses. Sign up for Code School at only $19/month. That's $10 off per month!
Ben and Scott run Roots, a team of folks who help you build better WordPress sites faster with Bedrock and Sage.